Accommodation & Tours
As Lisbon is a highly popular tourist destination Leading has pre-blocked a limited number of rooms in different price categories.

Accommodation can be booked for the conference via Leading who have obtained competitive rates at a variety of hotels and apartments for EuCheMS delegates. Any bookings and payments are made direct with the accommodation provider, not the Portuguese Chemical Society, and all queries and requests must be made direct to them.

Leading
Rua Diogo de Couto, 1 B, 2799-537 Linda-a-Velha | Portugal
Travel Agency Number: RNAVT 5895

For more informations please contact: : +351 215 870 920 euchems2022hospitality@leading.pt
---
Address: R. Diogo de Macedo, 1600-055, Lisbon
Metro station: Entrecampos/Cidade Universitária (yellow line)
Email: dirruf@lisboa.ucp.pt | Student Residences Reservation Code: EUCHEMS2022 | website
1 night 32.50 € (first night) | Next nights (1 week) 26.00 € | Dinner 7.00€ | 1 week 160.00€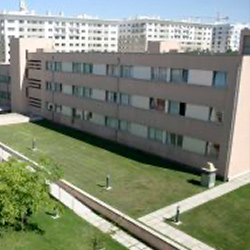 Address:Residência de Estudantes Eng. Duarte Pacheco
Av. D. João II, Lote 4.70.02,Parque das Nações Norte,1990-088 Lisboa
Metro station: Oriente (red line)
Train from Oriente to Alcantara-Terra
Buses: 728 (from Portela to Restelo - is direct to conference venue)
Email: nucleo.alojamentos@tecnico.ulisboa.pt

More information soon